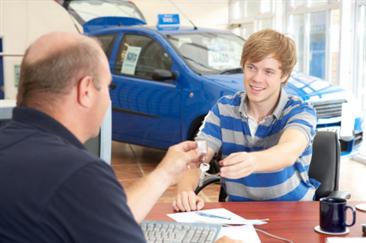 So you've bit the bullet and decided it's time to buy a car. Perhaps your old car finally kicked the bucket, or it's simply time for a change. You've done your research and selected a car, now it's time to buy. The sales process can be extremely stressful; while you're trying to get the best deal, the salesperson is trying to meet his or her quota and maximize the commission. On top of that, you have to think about financing and insurance, not to mention how much it'll cost to fill up the tank. No wonder there's so many myths out there about how to save money when buying a car!
There are three general costs associated with buying and owning a car: purchase, ongoing operation and maintenance, and insurance costs. This series will assess the facts and fiction surrounding those costs, including negotiating the purchase price, figuring out financing, understanding car insurance quotes, and minding maintenance mandates. In this instalment, we'll take a look at the first category: purchasing and financing your car. Are you ready to bust some car-buying myths?
Buying at a certain time of the month can save you money?
Many salespeople have quotas they need to meet each month, so shopping for a car at the end of the month may get you a good deal. The end of December can be a particularly good time to shop, as the holidays tend to be a slower sales period.
Shopping at the end of the model year, when dealers are trying to make room for the new models, could also be a money saver. Keep in mind, however, that your selection may be limited as inventory of the old models decreases.
Financing through the dealer is always more expensive?
Sometimes dealerships offer attractive financing options to help move cars, but be sure to read the fine print. In fact, if you plan to finance, the best thing to do is shop around prior to talking financials with the salesperson. Get quotes from your bank, as well as third-party providers (ensure you understand the terms and all other fees associated with the loan), then use the lowest rate in your negotiation with the dealer. Ask the salesperson for the lowest rate they can offer you. If their rate is better than what you've found elsewhere, you've got yourself a deal. If their rate is higher, it doesn't hurt to ask if they can beat your best quote.
Buying used will always save money?
Surprised? We don't blame you. It used to be that a one- or two-year-old car could save thousands over the current model year price. That's not always the case now. With more people buying used cars and with some brands holding their value better than ever, used car prices have risen. It wouldn't be out of the question for a loaded 2011 model to be more expensive than a base 2012 model.
Financing can also play a role in the price differential. The interest rate on a new car may be lower than the rate for a used car, particularly at dealerships that have incentive to move new vehicles off the lot. Taking into consideration the sales price, interest rate and other loan fees, a new car may cost you less over the life of the loan, so be sure to break out your calculator before you sign on the dotted line.
Everything is negotiable?
To an extent, this is true. Arming yourself with as much information as possible about the car you intend to purchase is one of the best ways to get a deal. Knowing the invoice price of the car (how much the dealer paid for it) is a good place to start. Why? It's unlikely they'll negotiate any lower than what they paid. Keep in mind, however, that supply and demand plays a large role in pricing. In addition, the buyer before you may have been a master negotiator, in which case the salesperson may not be as willing to bend on your quote. Sales representatives often have to reach an average profit target, and if you're not a particularly talented negotiator, you may end up making up the difference for that previous buyer's great deal.
In recent years, no-haggle pricing (also known as mounted or fixed value pricing) has become more popular at car dealerships. The modus operandi at these dealerships is that everyone pays the sticker price-no haggling necessary. Those nervous about negotiating may feel more comfortable buying from this type of dealership. You probably won't score a bargain, but on the other hand, you're less likely to pay more than another person for the same car. Although negotiations are unlikely at a no-haggle dealership, your trade-in value may be negotiable. Keep in mind that the dealer will probably not offer you more than they can sell it for, so get an understanding of your car's value before you talk financials with the salesperson.
So there you have it. Scoring a great deal isn't so hard after all! Check back soon for our next instalment on car maintenance costs, and stick around as we bust the myths surrounding car insurance quotes. Until then, happy shopping!
Disclaimer: Every car-buying situation is unique and Captain Compare can't guarantee this advice will result in cost savings. You should do your own independent research before making any decisions.